15 November 2021
#BETHEBEACON CAMPAIGN OVERVIEW
WanderSafe, in support of the UN Sustainable Development Goals announced the #BetheBeacon initiative to activate citizens, private companies, NGOs, civil agencies, government agencies and sporting codes, to commit to working together to end gender-based violence in public and private spaces, workplaces and homes in support of the United Nations Day for the Eradication of Violence Against Women, November 25, 2021, kicking off the global 16 Days of Activism.
JOZU for WOMEN/WanderSafe is a social impact female-founded tech startup on a mission to impact a billion lives by 2025 and democratize safety for women and vulnerable people. To deliver on this mission, the team developed and deployed WanderSafe, a free safety smartphone application that facilitates users to assemble a trusted tribe of first responders to activate quickly and discreetly and reduce the eventuation of abuse and sexual violence. The WanderSafe ecosystem was launched in 2016 and has amassed users in 57 countries. WanderSafe's technology and personal safety devices have been incorporated into employee safety programs for remote workers at Vantage Strata, Deloitte, Revlon and Bookings.com
On UN Day for the Eradication of Violence Against Women, the #BetheBeacon Campaign will launch at a morning tea at Tattersalls Club, Elizabeth Street in Sydney for media, representatives of ZONTA International, UN WOMEN, and SHEEO, ministers, Tattersalls club members, invited guests and members of the international diplomatic corp.
The Mistress of Ceremonies is Ms. Sophie Faulkiner, and the event is hosted by Tattersalls Committee Member Robert Rowlands (Landsburys), Cathy Ngo (Keynoteworthy.com.au), Maria Calibo-Sales (Calmar Corp) and Stephenie Rodriguez (CEO and Founder of JOZU for Women Inc/WanderSafe.com).
To commemorate the UN Day for the Eradication of Violence Against Women, guests in attandance and online Goodwill Ambassadors will commit to #BetheBeacon for change and sign The Inaugural WanderSafe Accord – a declaration of action in alliance with the Global Goals for Gender Equality. This treaty articulates how we can work together in Collaboration (the 17th UN
Sustainable Development Goal) to achieve the UN Secretary-General's UNiTE by 2030 to End Violence against Women directive (UNiTE campaign), managed by UN WOMEN.
The UNiTe campaign is a multi-year effort aimed at preventing and eliminating violence against women and girls around the world. The WanderSafe Accord calls on governments, civil society, NGOs, sporting codes, women's organisations, young people, academic institutions, the private sector, the media, and the entire UN system to join forces in addressing the global pandemic of violence against women and girls and demand gender equality.
The #BetheBeacon Morning Tea is a fundraiser for WARIFng.org (Women at Risk International Foundation) and monies  raised in ticket sales and through a silent auction will go to WARIF.
Women at Risk International Foundation, (WARIF) is a non-profit organization founded in 2016 by Dr. Kemi DaSilva-Ibru MD; MPH in response to the high incidence of sexual assault, rape and human trafficking occurring amongst young girls and women across Nigeria. Each day more than 10,000 women and girls are sexually assaulted in Nigeria, and the Pandemic has exacerbated the situation to a level the World Health Organization have deemed, 'the Shadow Pandemic', as domestic violence numbers have tripled around the world.
WARIF was established to raise awareness and address the prevalence of this problem through the "WARIF Approach" – a unique holistic method of tackling Gender Based Violence (GBV) through the development and implementation of a series of initiatives, targeting both the intervention/treatment of these affected women, as well as providing preventive measures in education and community service to reduce the high incidence.
The #BetheBeacon launch will be the kick-off of the UN's global initiative, 16 Days of Activism, where citizens and Goodwill Ambassadors will #OrangeTheWorld to raise awareness, demand more support for victims of sexual and domestic violence and lobby for legislation that ends child brides and genital mutilation. The tenants of The WanderSafe Accord demand that stakeholders continue to advocate and 'speak up' about gender equality disparities inclusive of workplace harassment, cyber and financial abuse, and the prosecution those who exploit and traffic women and girls.
TEDx Speaker and WARIF Founder Dr. Kemi DaSilva-Ibru will welcome dignitaries, media and invited guests virtually from London, and remarks will given from Ambassador Anderson
Madubike of the Nigerian High Commission of Australia and Ms. Mercy O. Clement from the Office of Economic Trade and Investment matters of High Commission of Nigeria. The official Welcome to Country will be facilitated by Tribal Warrior of Redfern, and a representative from UN Women Australia will illuminate the programs that are presently being driven to create solidarity for gender equality including the #HeForShe pledge punctuating the Respect.gov.au campaign for Australian men to 'Unmute' and take an active stance of appropriate behavior.
The #BetheBeacon online Goodwill Ambassador Program is an inclusive diverse and multicultural tribe of more than 100 vocal men and women from around the world including Dr. Zachariah Turner, Dr. Michael Zacharia, Camilla Franks, crypto-currency expert Adryenn Ashley, Caribbean Tech Beach Retreat founder Kirk-Anthony Hamilton, author/TedX Speaker Zachary Harding, WanderSafe Ambassador to Africa Inimfon Etuk, Luka Cosmetics founder Katherine Lugo, journalist Janet Silvera, author Robert Ian Bonnick, dancer Brian Segnaro, academics/clergy Bishop Feb & Laurie Idahosa, anti-trafficking activist Dr Melanie Baker PhD, author/speaker Jarryd Smith, author/safety expert Carrie Pasquerello, educators, law enforcement, social media influencers, tech CEOs, music producers, chefs, and artists who are passionately committed to amplify the message #OrangeTheWorld and story-share the #BetheBeacon messages for gender equality.
For more information on The WanderSafe Accord, go here.
Questions and inquiries, drop us an email here
To attend the #BetheBeacon Morning Tea, please purchase tickets and RSVP here (COVID limits and compliance with NSW Heath Orders for check in and vaccinations apply.)
Why Nigeria? Why Now?
The World Health Organization is making an urgent cry for reducing the number victims of the 'Shadow Pandemic' – the increase of domestic violence resulting from COVID lockdowns and the reallocation of resources once there to aid the most at risk of women in the poorest of countries. Lockdowns exacerbated already stressful living conditions not just in developing countries but also here in Australia according to the ABC. https://www.abc.net.au/news/2021-06- 
25/coronavirus-covid-lockdowns-and-domestic-violence-data/100237406
WanderSafeä, with the assistance of the Nigerian High Commission in Canberra, has commenced an impact study of how technology and community can create real change for the women and girls of Nigeria. WanderSafe donated and deployed 150 non-violent personal safety devices to five NGOs across Nigeria that are working with victims of domestic and sexual violence. With a mandate to measure impact, WanderSafe will release the findings of the Impact
Study in Q1 of 2022. WanderSafe appointed Ms. Inimfon Etuk as Goodwill Ambassador to Africa as its inaugural step towards working on the Shadow Pandemic.
https://guardian.ng/technology/jozu-for-women-inc-appoints-etuk-as-ambassador-for-wandersafe/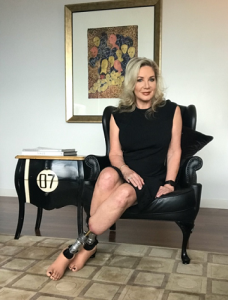 For WanderSafe CEO, Stephenie Rodriguez, the mission is personal.
In 2019, Ms. Rodriguez visited Nigeria speaking at HIVEAfrica.org on Collaboration for the Goals – the 17th UN SDGs in Lagos. Her trip was well documented in The Guardian Nigeria newspaper. https://guardian.ng/guardian-angels/social-impact/a-light-to-prevent-darkness/
 It was in Lagos she contracted Cerebral Malaria, a lethal mosquito-borne parasite that resulted in a two-week coma and a near death experience. She would then spend more than a year in the hospital, requiring 36 surgeries to salvage severely damaged hands and feet. Despite the efforts, Ms. Rodriguez became Australia's first bilateral above ankle Osseo-integrated bionic female amputee March 31, 2021.
Her personal journey and commitment to a billion lives impacted by 2025 in support of the UN Sustainable Development Goals remains unwavering and documented in her memoir, Thank You Mrs. Carter to be released in 2022 with a TEDxWomen talk to be announced and confirmed in December. She documents her journey and inspires others to be resilient on her personal Instagram @DigitalGodess http://www.instagram.com/Digitalgodess
Ms. Rodriguez is a member of the UN Women Australia, Rotary 2.0 of Frankston, a SHEEO Activator, and member of ZONTA International. JOZU for Women Inc is the sole owner of the free personal safety smartphone application, WanderSafeä and the developers of the WanderSafeä nonviolent safety solutions to empower people to go anywhere with greater confidence.
We thank you for your support and participation – until women and girls can wander safely, there can be no peace and stability.
Join the #BetheBeacon Movement.
On December 4th, in tandem with WARIF's Peace March's taking place in London, New York, and Lagos Nigeria, Stephenie and anyone wishing to participate can join the symbolic march across the iconic Sydney Harbor Bridge from Milson's Point to the Opera House in solidarity on this occasion.
FOR MORE INFORMATION:

STEPHENIE RODRIGUEZ, CEO JOZU FOR WOMEN
INC/WANDERSAFE.COM
0416089000
STEPHENIE@JOZUFORWOMEN.COM
MARIA CALIBO-SALES, CEO CALMARCORP
0404411236
MARIA@CALMARCORPS.COM
CATHY NGO
CATHERINE.NGO@KEYNOTEWORTHY.COM.AU