Karen Sadler is a vivacious petite athletic blonde. She is an avid sailor, regular runner and beach local around Cottesloe and Rottnest Island in Perth. Karen also is an avid traveler, who loves exploring new destinations both solo and on girl trips.
In July 2019, Karen Sadler took a solo trip to Spain, and visited Ibizia where she had been known to visit with girlfriends in the past. The appeal was both the beautiful islands to hop around like Formentera, the fantastic super yachts she might get invited on, and the luxurious ambiance of the wealthy Europeans and expats who frequent Europe in July. Ibiza has a global reputation for attracting the rich and famous and after all, Karen Sadler was single.
Like many women in their 40s who are divorced Karen had a Tinder dating profile active while on her holiday. When she matched with Alaine of Switzerland, she was both excited and optimistic. After exchanging friendly 'get to know' each other texts on the platform they moved to WhatsApp.
The plan to meet was simple. He was entertaining in his villa some English friends and their children. He too had a young daughter, so it made parental multitasking easy. Karen being a parent understood this and agreed to the barbecue at his villa that afternoon.
The afternoon was glorious, Alaine was a doting host and made sure his guests were well fed and their glasses never empty. They ate and drank and enjoyed the pool well into the night. Because of the remote location of the villa, guests retired when tipsy to spare bedrooms and Karen herself slept on Alaine's couch.
In the morning, Alaine invited her to stay up at the villa with him for a few days. They seemed to be getting along well, and commuting to and from the main town would be both costly and time-consuming. The English guests had been talking of hiring a boat and spending the day on the water the night before and Karen was keen to remain with the fun party. When she brought up the boat trip, he repeated shut her down as if to exclude her from the invite although she was part of the discussions and prepared to contribute towards the excursion.
Although a solo traveler, Karen did have a girlfriend who had been working on a superyacht in the Marina in Ibiza, and during the day received a text message stating that she had just left her employer and wanted to spend the day today. Karen invited the friend up to Alaine's villa to enjoy the pool and his hospitality and keep her company. Her friend, *Ann and she spent the day by the pool relaxing in the Balearic sun, listening to music, and drinking. The day eased into the nights and the party continued and both Karen and Anna slept in Alaine's guest room.
The next day when Ann left, Alaine informed Karen that she was welcome, however, her guests were not. Karen woke feeling slightly off from two days of festivities, and he insisted that she remain in the villa, hydrate and 'take it easy' while he attended errands and business in town. Alaine rented and managed villas in Ibiza. Within a few hours of his departure, Karen felt better and got her second wind. She dressed, caught a bus to town and went to the Hard Rock Hotel for lunch with Ann and did some shopping.
When Alaine returned to the villa to find Karen had left, he was displeased. He began to text her and ask where she was and why she left. His concern quickly shifted to aggression and the WhatsApp messages became angry. He had expected that on this evening that she would have dinner with him, since every other evening had been chaperoned in some form with guests and her friends.
Karen informed him on WhatsApp that should would come by and collect her bag and belongings that she had left there when finished in the city, while Alaine's anger stewed and grew greater that afternoon. Upon finishing her session at Hard Rock Hotel, she hailed a taxi, gave him the address and gingerly headed back to the Villa. The Villa was located in a remote area and typical to the island was designed to provide its occupants with discreet privacy.
Karen knocked on the door and Alaine appeared. She was worried that he might have missed her cosmetic bag but he insisted on handing her bag on the doorstep and not permitting her entrance into the house. When her hand took the suitcase from his, he said "And take this Karen," and proceeded to deliver her a 'king hit' or single powerful and deliberate blow to the face and eye. The blow landed where Alaine had intended against her skull, and sent her toppling down a flight of more than 20 steps and into the street.
(Have you seen the WanderSafe Smart Safety Beacon? Its the perfect companion for traveleres and commuters to keep them safe when away from home.)
As Karen tumbled down these steps, shown above, she cried out "I'm hit" the anyone who might have been nearby. Her voice weak with shock and pain. Fortunately, the incident happened so fast that the Spanish taxi driver had not yet completely driven away, and witnessed the incident happening. Karen had dropped her phone in the fall, and he helped her recover her belongings and loaded the battered women, the suitcase and her phone into his taxi. 
Although being aware of the WanderSafe app through both the founder of JOZU for WOMEN Inc Karen had not downloaded the free safety app to her smartphone. Like many Australia women, she felt like 'this can't happen to me.' From the taxi, and in shock, she began to try and work out what to do next, whom to call, and what authorities to file a report to. Karen didn't speak Spanish. She was not familiar with the local infrastructure or location of amenities such as hospitals or walk in clinics,. She was helpless, in pain and alone with a taxi driver with limited English and she was terrified. Her life now rest in the hands of a kind stranger — the driver. 
When Karen posted her photos as they admitted her to hospital for a possible concussion and to treat her many cuts and bruises, she informed friends of her attack but told them not to worry and that she would  remain in the Ibiza hospital for a few days for observation. It a common fact that the Facebook algorithm distributes content to a users social graph as it sees fit. I was fortunate enough for Facebook to show my Karen's post and allow me to reach out to her and offer her assistance. As I was in Greece and within a convenient time zone, the gods of Facebook were in her favour. 
We spoke to Karen after she received medical attention about the incident where she calmly recounted the story above as we spoke on Instagram video chat.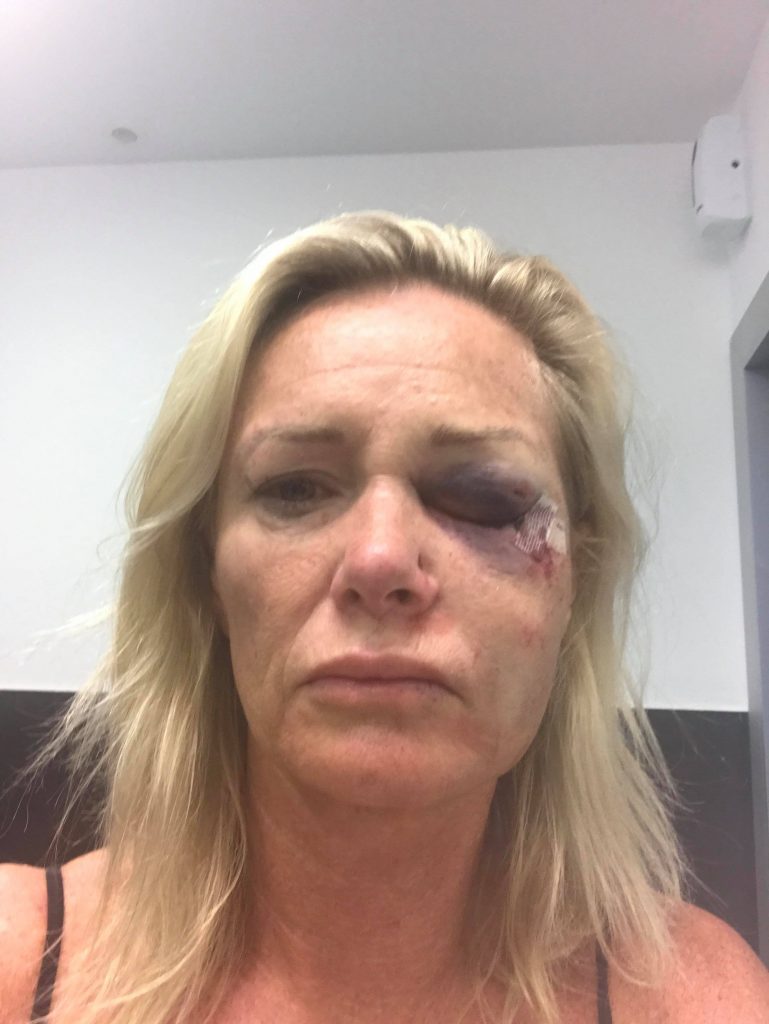 Karen's eye was continuing to go from bruised to black. Her eye was taped where the skin had been broken and she looked so fragile. We cried together on the video call but she assured me that she had spoken to police and would press charges. She had managed to get in touch with some friends from Facebook where were closer to her than I was to come and assist her in the days to come. 
When she told me she did not have WanderSafe's free app installed on her phone I felt like shaking her hoping to jar some common sense into her head. 
WanderSafe is a free smartphone app, and it could have helped Karen and other women in a few simple ways. When the WanderSafe app is set up, it askes the user to assign three emergency contacts to the app to act as your 'trusted tribe' in case of emergency. The app notifies the three contacts of the nomination and suggests that they download the app and confirm their willingness to use the app and assist if the SOS feature is activated. Again, this is all completely free to use. We always suggest the user test the SOS feature in the app on a 'dry run' to show recipeints of an SOS signal how the app behaves when the SOS feature is activated and so that a discussion around safety protocols can be established. 
Had Karen have had WanderSafe in her phone, and her three emergency contacts set up, and the Voice Assistant shortcut determined, things could have happened differently. When Karen opened up the WanderSafe app in Ibiza before going to Alaine's Villa, she might have seen the villa marked as "unSafe" by a WanderSafe user who might have been there before, or a comment and photo from an other user if there was a previous incident. It is uncertain if Alaine is a repeat offender of violent assualts against women he meets on dating apps. 
The free WanderSafe app allows users to tag locations as safe and unsafe, and leave tips with photos as to help assist and inform other WanderSafe users in a simple 'see something say something' manner. Our mission is to positively impact 1 billion lives through democratising personal safety for everyone and why this community collaboration tool is so important. 
When Karen found herself at the bottom of those stairs, battered and injured and her phone somewhere beside her, she could have activated the WanderSafe voice alert SOS feature which would immediately dispatch her location and need for urgent assistance to perhaps her daughter, her friend Ann in the Port, and a first responder through our premium safety concierge service, WanderSafe Assist. Caring friends both local and back home could have immediately contacted the Australian Consulate, local police and organized an ambulance, simultaneously, without having to recall the address, speak Spanish or try to dial the phone with trembling hands. 
Thanking all the stars in heaven that the taxi driver was a decent human being, this scenario could have ended much worse, as in Mexico taxi drives are known to prey on vulnerable women which also ends in further violence including rape and kidnapping as one young lady told us from Slovenia her story of falling asleep in a taxi in Mexico and waking up raped and kidnapped and fleeing from a window for her life. 
With the WanderSafe app, Karen's movements would be trackable from the SOS feature activation, and update her trusted tribe every 60 seconds so her family and friends would know where she was and what direction she was heading.  Only visible to her friends and first responder team, these notifications would update until safety and the feature deactivated either through her fingerprint or her unique voice command. 
The WanderSafe app is part of the WanderSafe safety ecosystem designed for adventure lovers, active solo travelers, runners, commuters and vulnerable people. The smartphone app is available and free to download on both Google Play and ITunes and pairs with the ultimate discreet non-violent personal safety device, Beacon, that puts powerful anti-assault tools and help in the palm of your hand.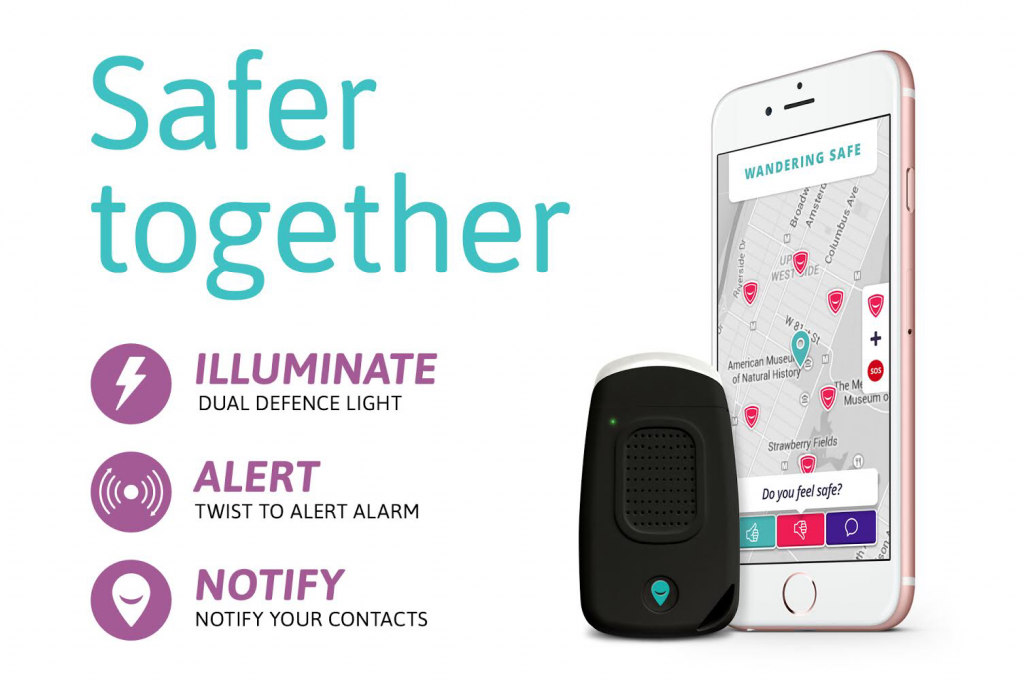 Designed in collaboration with a CIA counter-terrorism expert, the Beacon features a 1000 lumen flashlight to illuminate a situation (bad things typically happen where there is poor lighting), a 7 second strobe feature to distract a potential threat, a 140db personal siren to attract attention and discourage an assailant, and the SOS silent alert button that works with the app to signal the trusted tribe that you are in trouble. 
Tools like WanderSafe can help reduce the risk of violence before they happen with information and environmental awareness. Our interactive mapping feature allows users to see where crime and been committed and what other users have annotated to help our users make better informed decisions. Our beacon give you confidence that is a situation presents, you are 87% less likely to have an SOS moment because you weild a powerful and empowering tool. Our free app could have greatly assisted our friend Karen, and as she recovers in Perth and pursue's Alaine in the Spanish courts she encourages other solo travelers who are vulnerable to take steps to protect yourself, stay alert, and have a conversation with the ones you love about the "what ifs' and what to do next. 
For more information on the WanderSafe beacon, click here.
Got a travel story to share? We'd love to hear it. 
#SaferTogether