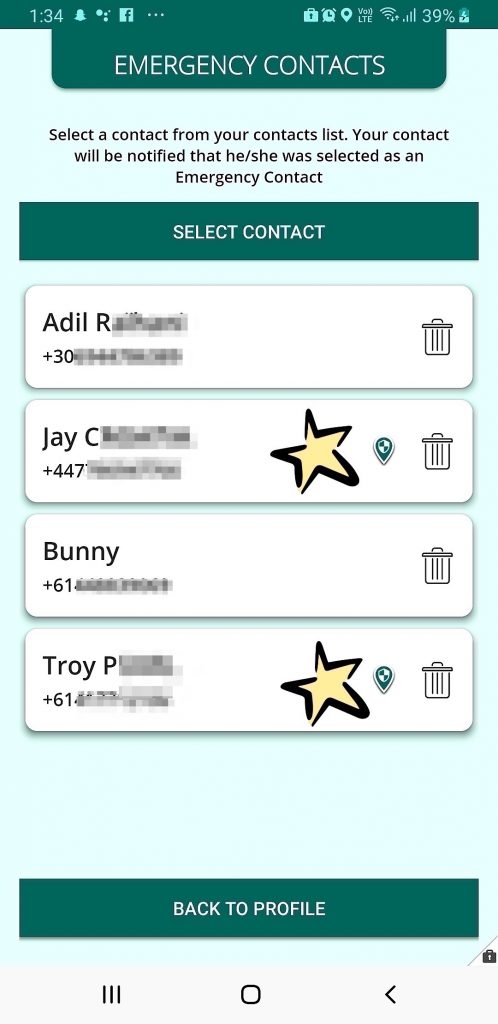 Once you download the WanderSafe app its important to set it up properly so that you can enjoy the maximum benefits of all the amazing features. In this post you'll learn how to add and confirm your emergency contacts in the WanderSafe app and why it is important that your emergency contacts confirm by downloading the WanderSafe app. 
Here are the steps to take to setting up the emergency contacts in the WanderSafe  app properly. 
1. Download the WanderSafe app and go through the setup process. You can access it in the Play store and iTunes for iphone users with operating systems from 10.1
2. Complete the onboarding process including confirming your smartphone's phone number via the autogenerated SMS code. Note, the code will come from a +1 615 area code exchange as we use a third party service to deliver our SMSs. 
3. Select three people in your tribe that would be willing to help you get help or come to your aid if you were in peril. We suggest a loved one, living partner or traveling colleague and your boss if using the WanderSafe app and beacon as a part of your employer Duty of Care program at Booking.com, Revlon,  Deloitte Digital, and Vantage Strata. Ensure that the number you use to add them with is able to receive an SMS text message and it is not their land-line. 
4. If using IOS, be sure and find your contacts via the scroll feature, instead of the SEARCH feature. For some reason, IOS does not let you add a contact by tapping the bubble on the left of the contact in your friends list if you SEARCH instead of SCROLL. 
5. Each person that you select will get a notification that you have nominated them to be your emergency contact and get prompted to download the app. It is not mandatory for you to use the app and beacon successfully, but it greatly improves their ability to track you should you activate the WanderSafe SOS Alert feature as this is best viewed in the WanderSafe application. If you the user were to activate the WanderSafe SOS feature either with a beacon or in the app interface, they are able to track your movements using the technology we have built. 
6. Once your WanderSafe  Safety Circle members have downloaded and confirmed themselves in the app, you can see their confirmation in your Emergency Contacts screen. Their names will have the WanderSafe SAFE Icon next to them and you have successfully set up this feature.
Got a question or suggestion for the WanderSafe app? Please let us know in the comments below.